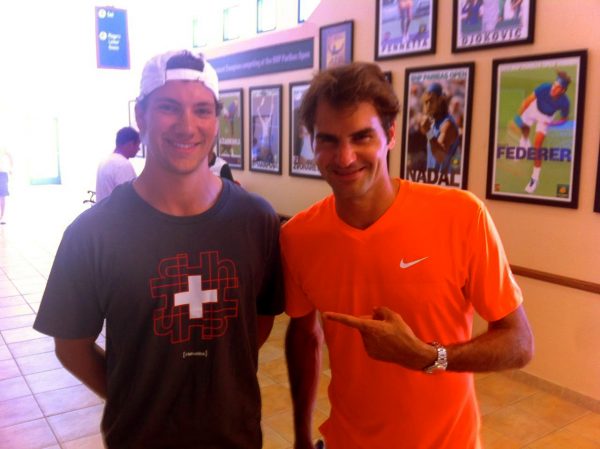 Wie wir alle von unserem Blog über die Haas'sche Schriftgiesserei wissen ist die Schriftart Helvetica in Münchenstein, einem kleinen Ort im schweizer Norden mit einer Bevölkerung von 11.732 Menschen (Das ist weniger als die maximale Kapazität der Spokane Arena). Zusätzlich jedoch zu diesem typographischen Erbe ist Münchenstein ebenso die Heimatstadt vom Tennis Profi Roger Federer. Geboren ist Roger F. in Basel und im Alter von 10 Jahren ist er dann nach Münchenstein gezogen, wo er seine Glanzzeit verbracht hat.
Aus diesem Grund war unser Freund Yannick, als er dieses Jahr bei der BNP Paribas Open gearbeitet hat, entschlossen, mit Herrn Federer über die Helveticahaus Produkte und deren Erlöse zu sprechen, die eingesetzt werden, um Stipendien zu finanzieren. Roger war von der Idee begeistert und nachdem das Foto gemacht wurde schenkte Yannick HerrnFederer sein eigenes Helveticahaus T-shirt. Wenn du also gerade dein eigenes Hh T-shirt an hast, denke daran, dass du das gleiche T-shirt wie Roger Federer trägst.
---
As we all know from our blog on the Haas Type Foundry, Helvetica originated in Münchenstein, a little town in northern Switzerland with a population of 11,732 (that's less than the max capacity of the Spokane Arena). But, in addition to its typographic heritage, Münchenstein is also the hometown of tennis pro Roger Federer. Born in Basel, Roger F. moved to Münchenstein at the age of 10, where he lived during his formidable years.
Which is why, when our friend Yannick was working the BNP Paribas Open this year, he was determined to speak to Mr. Federer about Helveticahaus's products and how all proceeds go towards funding scholarships. Roger was delighted by the idea and, after this picture was taken, Yannick gifted Mr. Federer his very own Helveticahaus Tt. So, when you're wearing your very own Hh Tt, know that you're wearing the same shirt as Roger Federer.